What are your dreams for your children? I write about this often, and it's worth mentioning again.

First and foremost I pray my four boys come to a saving knowledge of Christ and choose to live for Him.

Beyond that I hope they are respectful and respectable people who consider others before themselves.
I do not have any hidden agenda for what I want them to be when they grow up. I do not have a dream or plan for their future occupations. I want them to find their own passions and pursue their own interests. What do I hope for them?

I want them to be creative.

I pray each of them are confident in his ability to be an individual. My desire for each of my boys is that he learns to think out of the box. I'm not necessarily hoping for budding artists (although that would be cool), but creativity extends far past art and design.
Creative people aren't easily swayed by peer pressure.
Creative people are problem solvers.
Creative people are successful.
Creative people aren't afraid to try out of a fear of failure.
Creative people dare to be different.
Past creativity I pray my boys use their abilities for the good of others.
A large portion of what I write about on my blog involves raising creative kids. We daily engage in sensory play with the intent to stimulate as many as sense as possible while playing and learning. I encourage process art, and we paint, color, draw, use playdough, and explore as many artistic mediums as possible without "staying in the lines".

I do this to encourage creativity and to teach my boys to create on their own.

If they are always given specific instructions with an expected outcome, there is little room left for developing creative minds who can imagine and create on their own without instructions.
I am thrilled to announce the release of a fabulous resource for developing creative thinkers. Jillian of A Mom With A Lesson Plan has written an exceptional eBook entitled Raising a Creative Kid. It covers setting up creative environments, play spaces, art supplies, language that inspires, mistakes, and much more. It is an easy read, and it gives practical and tangible ways to spark creativity in your home. A word from Jillian:
"Would you like to raise a kid who is creative? Would you like to see the twinkle that passes through your kid's eye when she has an idea… and know exactly how to nurture it?




What if I said there was a way for you to raise a creative thinker by simply setting up a creative environment, using intentional language, and nurturing mistakes? What if the answer was as easy as following simple strategies all laid out for you? Would you jump at the chance?

Raising a Creative Kid: Simple Strategies for Igniting and Nurturing that Creative Spark is just what you need to transform your environment into a creativity growth center. With creative exercises following each of the sections I have made moving into a creative lifestyle as easy as possible. Just like I do with everything else here on amomwithalessonplan.com, I use and recommend materials that are cheap or free."
Ready to get your own copy? Click the photo below.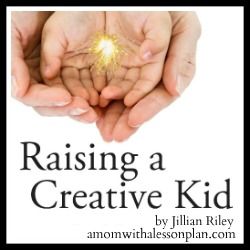 To learn more about Jillians eBook, you can read reviews, excerpts, and view the table of contents.