I am so excited about this topic! As you know, we love glowing fun.

My boys are delighted by anything that lights up.

They have a hefty stash of flashlights, glow sticks and other toys that produce or reflect light.
In addition to being just plain fun,

experimenting with light can be a learning tool for young children.

Light allows us to view objects in a different, well, light. Children can learn more about the world around them by exploring different forms of light and varying levels of brightness. Colors change depending on the light, shadows move or change in size, other senses are heightened under dim light.
One of the great things about this particular topic in my series?

The simplicity of it!

Of course there are always ways to be more creative and make play more exciting (and I'll share a few of those!), but most of the ideas I'm going to share take little planning or extra cost.
Thanks to a wonderful network of bloggers and friends, I have complied this fantastic list of suggestions for glowing play.
Sun
What glows brighter than anything on earth? The sun, of course! Last week the older boys and I did a unit study on the sun and the light and life it provides. We made a sundial to demonstrate how to tell time based on the position of the sun.
We made grapes. (They are still outside dehydrating.)
We traced each other's shadows with sidewalk chalk.
Flash Lights
Use a flash light and a globe to demonstrate how daylight shines while our location of the earth is facing the sun and how it gets dark when the earth rotates on its axis away from the sun.
Play an Animal Spotlight game or a Sight Word Spotlight game to aid in teaching like A Little Learning for Two.
Enjoy some Shadow Play Science Inspiration Laboratories. My boys adore experimenting with light and shadows. I bet yours would, too!
Give your child a flashlight and a few translucent toys to experiment with like A Little Learning for Two. I never thought to put marbles on a flashlight!
Caution! Twins at Play made magnets with LED lights.
Add Easter Eggs and Submersible Lights to Water Beads.
We have these domes and play with them almost daily. Inspired by Caution! Twins at Play I'm going to light them up!
Red Ted Art created a Shadow Puppet Theatre.
Have an Easter Egg Hunt in the Tub with submersible LED lights.
Glow Sticks
Glow sticks are inexpensive and easy to use. We typically buy ours at Dollar Tree. They can also be found for cheap at Target or Michaels. The possibilities with glows sticks are endless!
We love taking glow sticks in the tub. Go Kid Yourself demonstrates different ways to create a

Glow Bath.
Mix Glow Sticks and Water Beads.
Combine glow sticks and flashlights to make a Glow in the Dark Cave like The Imagination Tree.
Play a game of Glow Stick Hide and Seek like A Little Learning for Two.
Come Together Kids made slick Glow in the Dark Drinks for her kiddos using glow sticks!
A Little Learning for Two made a cute Glow Stick Ring Toss with step by step instructions.
One of our favorite, no planning needed ways to have fun is blowing up Moon Balloons!
Other Glowing Ideas
My Buddies and I made a Glow Bottle that actually works! (The Mountain Dew bottle floating around the internet is a hoax. Try this one to see it really GLOW!)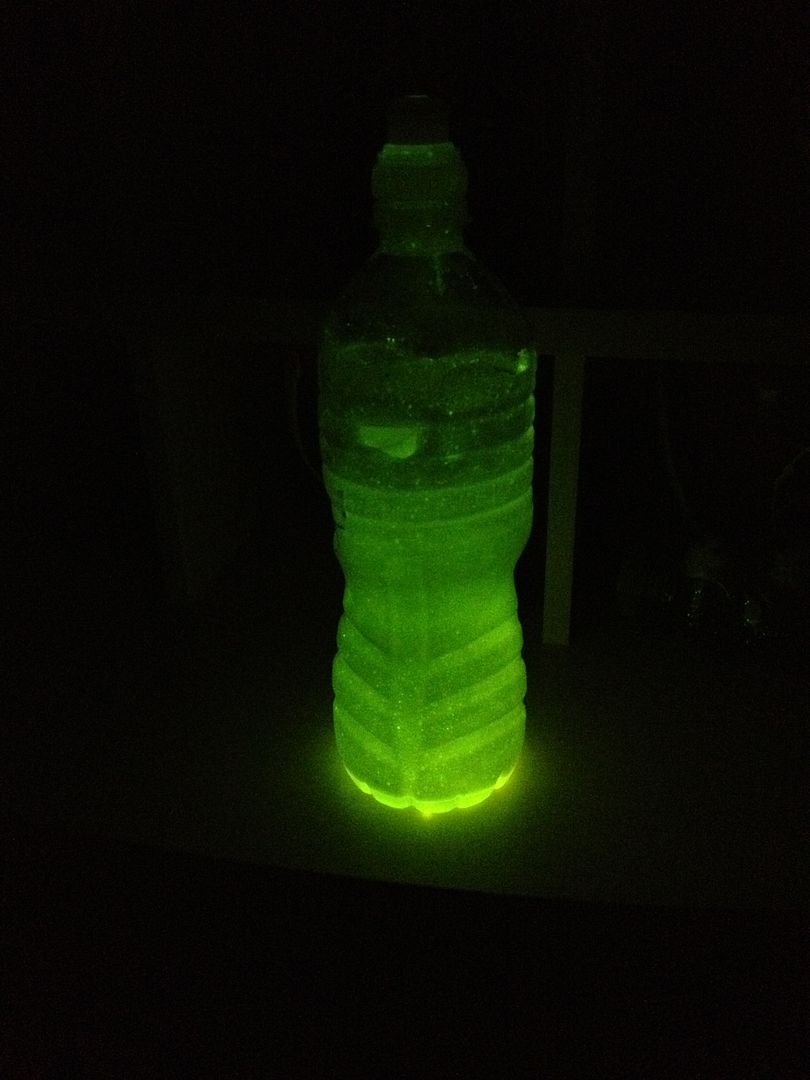 Use a candle in a homemade lantern and take a Lantern Walk like The Golden Gleam.
Black Light
The boys and I pull out the black light at least once a week. A few tips and guidelines for black light play:
We get the best glow when we place our black light above us. This works well on a tall dresser or counter.
Avoid looking directly at the black light as the UV light can damage eyes.
If your kids light to play under the black light for long periods of time, I suggest cracking a door to let a small amount of light shine through. It is easier on the eyes.
Go on a hunt for items that GLOW under a black light like Go Kid Yourself.
Let your children unleash their imaginations and make Glowing Aliens.
Glow Water
Our favorite way to play under the black light is with GLOW Water.
Water Beads are cool enough on their own, but hydrate them with GLOW Water to delight your little ones!
Make Ice GLOW by freezing Glow Water.
Make Oobleck (goop) GLOW by adding glow water.
Use GLOW Water to make Slime (flubber, gak, etc.) like 2 Big, 2 Little.
Variations

on discovery bottles are all over the internet.

Caution! Twins at Play made

Black Light Sensory Bottles

. Too cool!
Recently we did an experiment to see which would glow brighter, Jello made with Glow Water or Jello made with Tonic Water. Read here to see the results!
Mix a little GLOW water with school glue to make Homemade GLOWING Paint.
Glow in the Dark
These ideas truly glow in the dark and don't require a black light.
Make homemade Glow in the Dark Flubber Mom to 2 Posh Lil Divas.
Come Together Kids made a Glow in the Dark Firefly Jar with glow in the dark paint.