Reading Practice with Wooden Trains
Please join me in welcoming Jessica of Play Trains! Jessica is the prime example of following her child's lead and expanding upon his interests. Her creativity never fails to amaze me as she constantly comes up with new games involving trains. One of my all time favorite posts from Jessica is her Angry Birds Letter and Word Crash featuring train play with LED lights.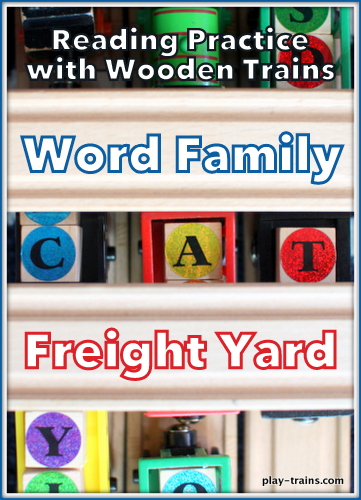 If you ask my son, the Little Engineer, what his steam engine is pulling today, his answer is almost always an enthusiastic "Freight cars!" Freight -- loading it, transporting it, unloading it -- has been the backbone of his train play since the time when he was signing the word for "train" rather than saying it aloud. This fascination with freight makes it a great way to enrich train play. When the Little Engineer plays trains, the contents of his freight cars inspire an endless variety of stories. Finding or making the right freight can spark an interest in something new through otherwise familiar play. We've learned about everything from math concepts to holiday traditions in this way. These are some of my favorite activities to share on Play Trains!, because they create not only additional opportunities to learn through train play, but also new excitement about the trains themselves. With wooden trains as expensive as they are, I'm happy to do anything to prolong their status as favorite toys in our house! A couple of months ago, the Little Engineer started sounding out words in the world around him. Now that he was interested in putting his knowledge of letter sounds to use, I knew it was time to add more reading practice into our day. Inspired by a math activity we did with wooden trains and dice, I came up with a way for the Little Engineer to use letter dice to practice word families while playing freight yard with his wooden trains.
Word Family Freight Yard
We did this activity to practice word families, but it could easily be used for sight words as well, especially some of the variations below. First, we set up a freight yard together. This could be as simple as three straight train tracks running parallel to each other. With the Little Engineer, I've discovered it's important to include a pretend play aspect to any activity we do, so I used switch tracks to incorporate the three tracks into a larger layout. This way the trains could chuff off and perhaps come back with their letter freight switched around.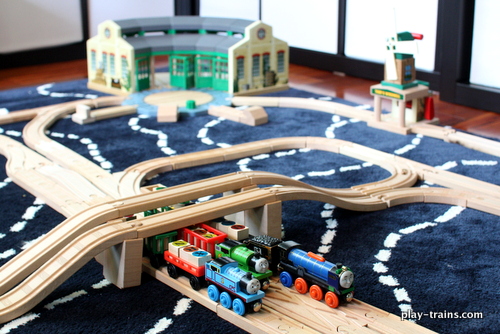 I also ran two bridges over the yard, spacing them apart by about the width of one of our letter dice. You could get by with only one bridge, or none, but the bridges will help focus your child on one word at a time. Once the freight yard was put together, I went to get the letter dice. And that's the point when I realized they were at the most inaccessible point of the stacks of storage tubs we moved out of a room we're remodeling!
Fortunately, I had a package of 3/4 inch wooden blocks from the craft store. I looked through our stickers and found these bright, sparkly alphabet stickers I bought a ton of from the Target dollar bins last summer. To my relief, the stickers fit perfectly, and soon we had enough alphabet freight for the activity. If you don't already have letter dice, this is a cost-effective way to make them. You could also write the letters directly on the wood blocks with a permanent marker, but the stickers are more or less removable. I'm hoping to use the blocks for another project in the future, that seemingly distant point in time when the office will be remodeled and we can reach the letter dice we already had. To tell the truth, though, I like my DIY ones better -- they're much more colorful and cheerful.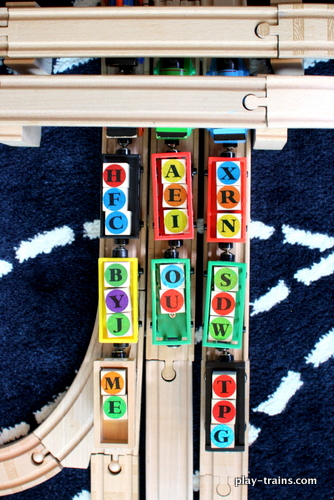 Next, we put three engines on the tracks, each pulling two or three freight cars. In the train on the left, I arranged the starting letters of some words the Little Engineer has been working on. In the middle train, I loaded vowels for the middle of words, and in the right-hand train I put letters that could end a number of words set up by the first two trains. Now, the trains could pull forward. Between the two bridges, words formed.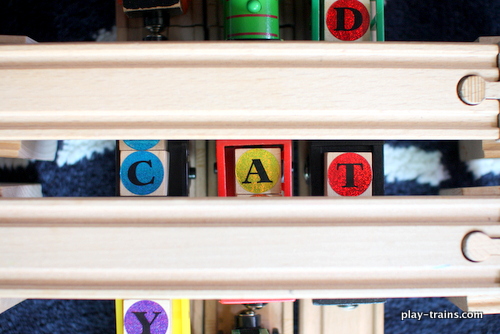 You have to peer down in to see them, which adds to the fun. Moving the trains one at a time, you can play with changing the first, middle, or last letter in the word, as in the progression below. (My son also loves reading from this picture collage, as I learned while writing this post.)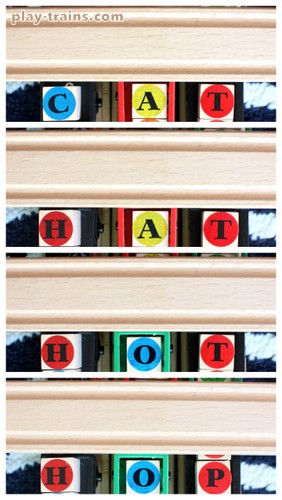 There are a number of different ways to play with this, depending on your child's interests:
Move the trains to make words for your child to read.

For added fun (and motivation), call out orders as Sir Topham Hatt or a yard master for different trains to move forward or backwards.

Have your child move the trains and tell you when a words appears.

Set up the freight yard, add the letter freight, and see what happens. When we built our yard this time, I designed a clover leaf pattern leading out of the yard and over the bridges, so the Little Engineer could chuff the trains around and have them switch places if he wanted to.

Have your child come up with a kind of freight to be in each letter dice "container" while loading or unloading them -- A could be apples, B could be boiler parts, C could be coal, and so on.

Using numerical dice, this game can also be used to practice reading two- or three-digit numbers.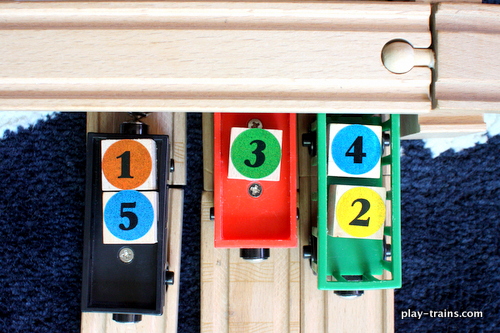 Variations
Another way to use the letter dice to practice word families or sight words is to set up word endings in freight cars, and have one or more engines pulling initial letters in cars back up into them. Using switch tracks, you can call out different words for your child to "couple up", or have them back up an engine to the freight car of their choice and read the word aloud.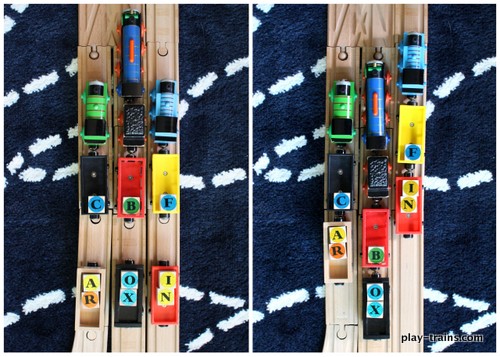 (The letter dice could also be oriented horizontally in the cars. I probably would have done it that way if we hadn't just been making words underneath the bridges.) You can also set this up around a turntable with one engine in the center. It occurs to me it would be fun to have the freight cars hidden in the sheds, to make each word a surprise as the train pulls back onto the turntable -- something I'll have to try with the Little Engineer soon!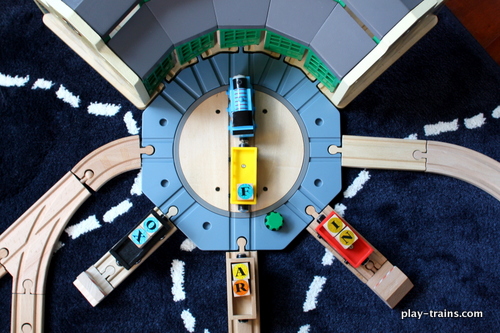 Finally, you can have whole words in freight cars and call out which word an engine is to pull next (once again in your best Sir Topham Hatt voice, if that makes it more fun). A more advanced reader could build sentences with longer trains of freight cars. More pretend play can be brought in by giving different words specific destinations around a layout.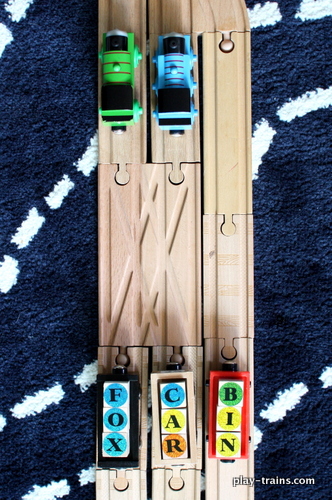 Now, if your little engineer doesn't seem interested at first, don't despair. Sometimes using the trains and dice in a different way can put things back into play mode. While the Little Engineer had happily played this activity in the past, on this occasion he was in the mood to play freight yard with regular freight. So, using the bridges across the freight yard, I set up a Railroad Word Crash game for him, and that got him involved and interested in playing with the letter dice again. I knew he would enjoy it, based on the past experience of playing Angry Birds Space Letter and Word Crash with him, but it was really exciting to watch when he started building his own words without any prompting from me! I hope this will inspire you to get creative with your child's train play. As much potential as it has, freight is only the tip of the iceberg when it comes to learning with trains. We've studied trees with wooden train tracks, come up with activities to explore our favorite train books, and even developed an appreciation for classical music with trains. Please feel welcome to visit us at Play Trains! for these and more ideas for playing and learning with trains.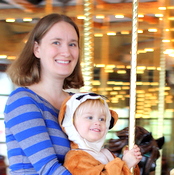 Jessica Petersen is a full-time track building assistant to her three-year-old son, the Little Engineer. She shares activities, adventures, and other fun for kids who love trains at Play Trains! When not playing with the Little Engineer, she is usually writing children's books. You can connect with Jessica on Facebook, Pinterest, Twitter, and Google+.