The Kid Blogger Network is thrilled to bring you a week long series entitled "The ABC's Of..."
Over 60 Bloggers have joined forces for this series, each blogger choosing a topic close to her heart.
For information about all the topics and a complete list of participating bloggers visit
This Reading Mama
.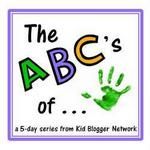 I have chosen to do The ABC's of Imaginative Play. My subcategory for this series is Learning Through Play. Here are the other wonderful blogs in my category and their topics:
My series will be broken up into five topics, and I'll post about each topic on a separate day this week. Each topic will be cover five or six letters with tips and ideas for fostering creativity and imagination.
This is going to be a fantastic series, and you don't want to miss a single day!
Imaginative play begins with creativity.
Have FUN playing, learning, and even while doing every day chores!
Don't be afraid to learn something new, for your kids or even from them.


Play spaces, toys and environments go a long way to setting the stage for imaginative play.
U - Z You
Imaginative play
isn't
just for kids, YOU can be involved too, and I guarantee you'll make your little one's day.
This post may include affiliate links. You can read my full disclosure policy HERE.