This week Nurture Store, The Imagination Tree and Sun Hats and Wellie Boots are hosting a Playdough Pledge. I am delighted to be participating. As you know, playdough is a favorite around here. Click HERE to view many of the ways my boys have enjoyed this wonderful little dough. My current favorite recipe can be found HERE. It is a no cook recipe, and we have had great luck with getting the texture just right. The second topic in my Child's Play 101 series was Playdough Basics. Thanks to inspiration from many blogs I follow, I compiled a list of fabulous ideas for playing with playdough.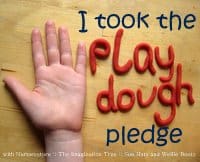 By taking the Playdough Pledge

I agreed to try something new with playdough this week.

I have several ideas that I hope to share throughout the week, but first I decided it was finally time to try out the Crockpot Playdough Recipe. The original recipe is from A Year of Slow Cooking, and I saw it for the first time on Repeat Crafter Me.
You can get the exact measurements HERE.
After letting the crockpot warm up a bit we added the dry ingredients and stirred.
Next we heated the water and added it and the oil to the dry ingredients.
A half hour later the playdough was done.
After I kneaded it, I gave the boys liquid watercolor paint
in spray bottles to add color.
We've never added our color this way. Usually we add food coloring or liquid watercolor paint
while kneading, but the boys have been on a spray kick. I figured, why not? Afterall, we are trying new things!
J-Bug wanted to help knead it to mix the colors. (Excuse his hair. We had just finished with some shaving cream fun. I'll post about that later in the week...)
The color didn't turn out great, but the boys had fun. In general they aren't concerned about the outcome as much as the experience. Now we have a nearly blank canvas for some serious playdough fun this week!
The verdict? Combing the ingredients was super easy, and I felt I didn't have to mix as much as with our favorite no cook recipe, however,

washing a mixing bowl is easier than washing the crock pot dish.

I typically put a bowl in the dishwasher but don't like how much room the crock pot dish takes up. I think I'll stick to the no cook recipe, but I'm pleased to cross something off my "need to try" list!
Stay in touch with Train Up a Child via Facebook, Twitter, Google+, and Pinterest.